INDIVIDUAL GO-KARTING RACE LEAGUES
GPK offers a variety of race leagues to satisfy all levels of go-karters from beginners to elite. Each series will feature trophies, awards, prizes and banquet. For complete details on our leagues, or to find out how you can participate, please contact us at info@gpkartways.com.


DOWNLOAD RACING LEAGUE DETAILS :

Click here to download

LATEST RACING NEWS
Click here for News & Standings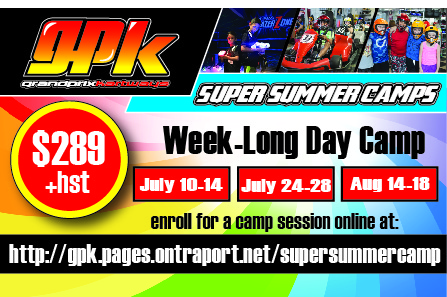 GPK'S SUPER SUMMER CAMP
Treat your kids to the most exhilarating and action-packed day camp available. GPK's week-long Super Summer Day Camp promises to deliver your child the most unique and entertaining camp experience, with fun and safety always in mind. Camp is restricted to children between the ages of 9 and 15, and must meet the minimum height requirement (approx. 50 - 52 inches). CLICK HERE to access our convenient online registration and enrollment page, or contact us at info@gpkartways.com for more information.


PRIVATE GO-KARTING RACE LEAGUES
Have a group of friends or coworkers looking for a unique and exhilarating outing experience? If so, GPK's "Do It Yourself" race leagues are the perfect fit. Enjoy all of the elements of an authentic race league, with the intimacy and convenience of a private event.  Schedule dates when convenient for you…weekly, monthly, or every couple of months.  Customize the race day format, league points system, and duration of your league.  You're in the driver's seat!  For more information, or to schedule your own private race league, contact us at sales@gpkartways.com